Well, MINI Mania has definitely struck our household! In June we purchased our first MINI—a 2006 hyper blue checkmate cooper.with a silver roof and silver swoop. It is a standard, has premium, & cold weather packages besides the checkmate pkg. We all 4 are in love... Everyone wants to ride in it all the time. We ordered it in April and watched and waited for her to be born, cross the ocean, pass through the distribution center and finally arrive at our dealer at the end of June! Heres some photos. Her name is Lil' Lucy.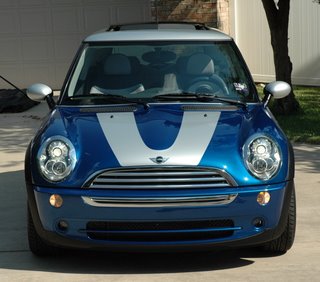 I started driving her to work when I went back in August, and so she went with me to Oklahoma every day. She pretty much is my car anyhow... But I guess my hubby just missed her sooo much he couldn't stand it. So he found one for himself! So now we have two! His is a used one. It's a 2003 electric blue cooper S with a white roof and white bonnet stripes. (He really liked electric blue when he found it; wouldn't have any other color!) It's a standard also much to our teenage daughters' chagrin! But hubby loves it. His also came with navigation and it's a hoot! It's a "she" as she has a British accent and uses all of these British terms. It is so fun. You want to program the nav even if you know where you're going just to hear her say, "200 yards straight on" in her lil accent. We were going to name his car "Ricky"—that was the original plan—but couldn't do that with that female voice! So he's named her "Sparky". Here's some pics of "Sparky".
If that all wasn't bad enough. We just had to take a couple of days off work—not easy for a college prof—and go play in the MINI Takes the States tour when it came to Dallas! We drove Lucy in the group for a couple of days. Unfortunately, that was all we could spare. I sure did want to go to St Louis and Indy!
MINIs in Memphis
MINI USA Tour Bus
Electric Blue Lineup in Memphis
Now that we have a cooper and a cooper S our daughters think we need to add the two convertibles to the family to "complete the set!" They'd be happy to each drive one! Only one is driving age and she is working on getting her license. She has even attempted the dreaded standard transmission! A friend at work said that he could just see us now...all following each other in our MINIs! sigh
Wasie